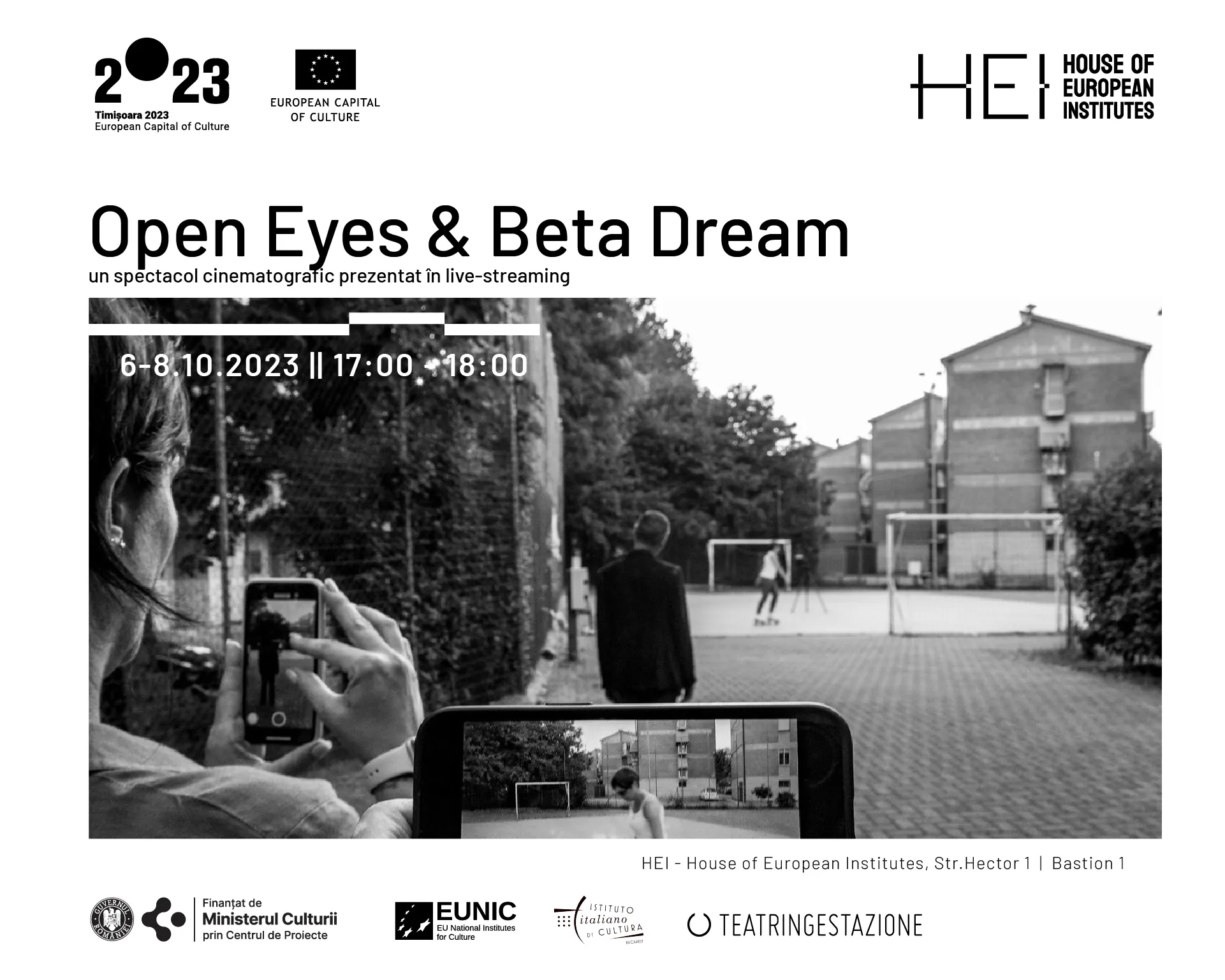 Open Eyes § Beta Dream
Programme
Friday to Sunday, 17:00-18:00
Free access (registration needed)
Open Eyes is a cinematic performance by Teatringestazione, a theatre company from Italy, presented in live streaming especially for Timisoara European Capital of Culture within the HEI – House of European Institutes project, the first multicultural centre in Timisoara, located in Bastion 1 Maria Theresia in Hector 1 street.
The performance is a research project that combines film and theatre: a site-specific, participatory, cinema-poetic action involving the community of inhabitants of a specific urban area.
With the support of the Italian Institute of Culture in Bucharest, HEI – House of European Institutes involves the inhabitants of the area in a cine-poetic project with a script based on their stories. Their experiences in the Bastion neighbourhood and their perception of the urban area of Timisoara are the basis for the creation of the script.
Thus, following an open call for participation launched at the beginning of September 2023, seven people living around Bastion 1 Maria Theresia signed up to participate in the production of the show. The novel element presented in Timisoara on the occasion of the show "With open eyes" is that the script is staged in real time, and the audience present at the event becomes in turn a character in the film.
Registration: [email protected]
The show will run three times:
Friday 6 October, 17:00
Saturday 7 October, 17:00
Sunday 8 October, 17:00
The project is part of the national cultural programme "Timișoara – European Capital of Culture in 2023" and is funded through the European Echoes Timișoara 2023 programme, implemented by the Center for Projects Timișoara, with funds allocated from the state budget, through the budget of the Ministry of Culture.