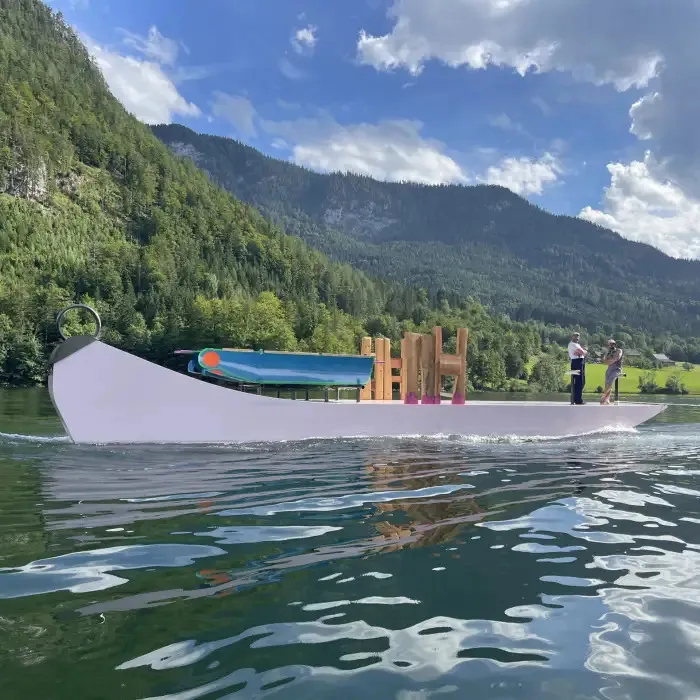 Wohlstand (Afterparty) — Prosperity Afterparty
Programme
Saturday and Sunday, 14:00-16:00
Prosperity (Afterparty) is a project with many controversies. By highlighting the themes from a wide range of disciplines, a continuous discourse results. Among other things, contradictions such as the standstill of tradition and the further development of technology are negotiated. Gaps are filled between history and the future. Urban-elitist understanding of art meets rural romanticisation of art.
On the historical side it is about traditional boat building, the Plätte or Zille, as well as the connection via waterways of the Salzkammergut region with the Banat region of Romania due to the salt trade, but also the (forced) migration and deportation that happened during the time of Maria Theresia of unwanted people from the Salzkammergut, who were sent to Romania on single use wooden boats to never come back.
On the craft and artistic side there is a big floating sculpture, which will be put into the water in one of the lakes of the Salzkammergut in Mid August. From this sculpture an "arm" will get detached and serve as a small vehicle for the research trip down the Danube, which will charge the sculpture with information and meaning. Once the research arm returns, it will be reunited with he big sculpture in another lake in the Salzkammergut and travel across the entire lake together. Then the floating sculpture will be pulled out of the water, will be cut apart, placed upwards and be put on a public place in Bad Ischl for 2024, the year of the Cultural Capital. The topic of Wohlstand (Afterparty), which the artists declared, serves as a (friction) field of conversation, discussion, collaboration and finding meaning. Under this topic there is the sub-topic of Care Work for Romania, which is a topic connecting Romania and the Salzkammergut and affecting people here and there.