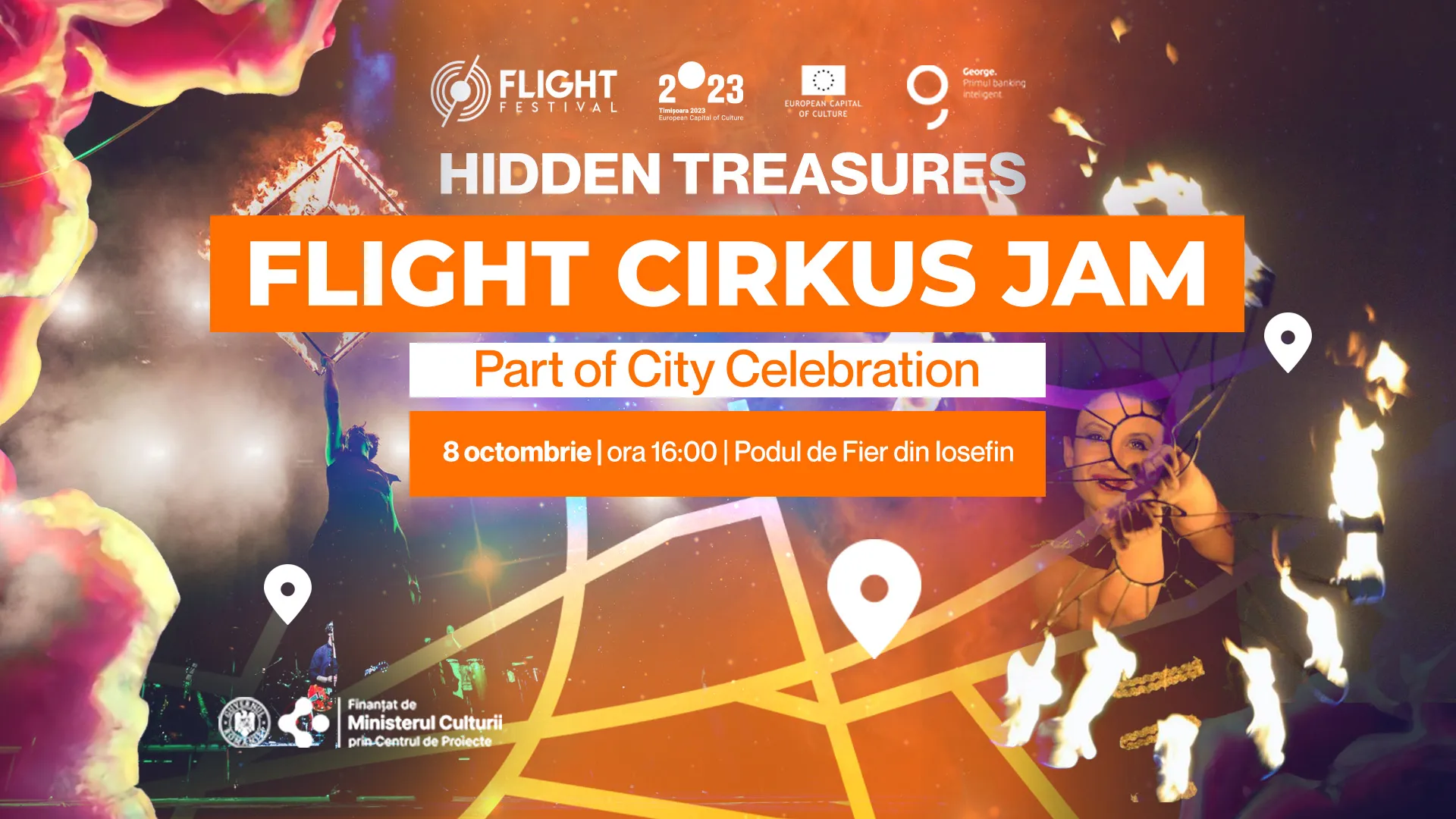 Flight CIRKUS JAM
Programme
Sunday, 16:00-19:30
Flight Hidden Treasures unites Timișoara with Veszprem, the European Capitals of Culture in 2023, through a complex program of street shows.
Come to the Iron Bridge in Iosefin, on October 8 from 16:00 to laugh, enjoy and celebrate the city!
It will be like in the stories: earth, water, air, fire, all the primordial elements will be present, in the interactive performances of Hungarian artists.
From 16:00 & 18:00, 3 animators will do various juggling demonstrations, an aerial silk and slackline show, and will then teach the public how to use these suspended elements.
From 17:00, STEAM ON – STEAM PUNK STREET SHOW (25 min)
The audience will witness the journey of the 3 artists through the endless labyrinth of space and time on their steam-powered velocipede. Joy and love have long disappeared from their world, so they decide to gather what remains. They are determined to make people laugh and cheer wherever they go, because that's the only way they can save the world.
From 19:00, FLYING EMBER – FIRESHOW WITH HANG (30min)
The theatrical fire show of the Flying Embers will amaze you with its magical play with fire. Huge flames, pyrotechnics, impressive jugglers and acrobatic elements, all will be present in the show of Hungarian artists. Both the choreography and the design of the show and the music were created by the three performers.
The project is part of the national cultural program "Timișoara - European Capital of Culture in 2023" and is financed by the program Inside Timișoara 2023, run by the Project Center of Timișoara Municipality, with amounts allocated from the state budget, through the budget of the Ministry of Culture.